Bitcoin Reflections: Bans & Hacks
The resolve of coin holders is certainly being tested. After the euphoric blow out at the end of the year the last couple of months have been humbling. The last week has not been an exception. Long weekends are notorious in the world of Bitcoin. Volatility spikes as the institutional traders take a break and the market frequently sees large price movements. For seasoned traders who have built and mastered their trade setups, these can be very profitable opportunities as well. However for the market as a whole and long term holders, it can be quite gut wrenching.
Let's look back at what conspired this week to get an idea the few fundamental and technical factors that caused the volatility in the market place.
India's blanket ban on crypto currency trading:
One of the pieces of news that got a lot of coverage was a
statement released by the Reserve Bank of India
.
"
In view of the associated risks, it has been decided that, with immediate effect, entities regulated by RBI shall not deal with or provide services to any individual or business entities dealing with or settling virtual currencies. Regulated entities which already provide such services shall exit the relationship within a specified time."
Indian exchanges started to see abnormal selling pressures across the board as holders were unsure about their abilities to withdraw funds. While Indian volume accounts for less than 10% of global volume, the market is currently in a state where the smallest piece of news is moving the market.
US crypto liabilities estimated to be $25b for 2017:
Tax season is in full swing in the US. As people get the money together to pay for their gains. While a majority of crypto holdings are undeclared we should expect to see authorities take a more active role in collecting a tax on the gains.
Fundstrat Global Advisers on Thursday released a note
indicating the pressure that tax selling is having on the price of Bitcoin. We have mentioned this a couple of times in the past few weeks. US tax selling period tends to increase downward pressure on price and given that many people do not know how to account for these gains there is a substantial amount of uncertainty. That said the week past April 20th once the filing date is closed should be interesting to keep an eye on. We will be watching our volume indicators to see if we can spot any reversal trends.
Verge
(
XVG) suffers a 51% attack:
A group of hackers discovered a vulnerability in the code of popular crypto currency called Verge. This was one of the darlings of the late 2017 boom and gave it's holder meteoric returns. However many people still hold the coin which has has several red flags raised over the last few months. On the 4th of April a hacker group was able to take over the network and was able to siphon off millions of dollars worth of coins. The group has alleged that there are still 2 more vulnerabilities in the code. This has brought up the sanctity of Proof of Work coins as a whole. Whether similar vulnerabilities could be found in coins who use the same consensus algorithm.
Robinhood opens up crypto trading in 4 states
:
One of the most popular equity trading apps finally opened up its platform for commission free trading of Bitcoin & Ethereum. With millions of other users in across all states waiting for access this is a good sign and if Bitcoin finds a bottom soon there is a lot of pent up demand. What Bitcoin requires are large on-ramps like Robinhood that make owning the crypto asset easier. At the moment there are still a lot of compliance hurdles globally that are causing a suppression of price. With several other countries like Japan, Korea & Singapore taking progressive steps we should start to see a rise of similar on-ramps globally.
Coinbase launches it's venture arm:
While the rest of the world is slowly losing it's interest in crypto currencies, savvy investors globally are putting large amounts of capital to work in the space. As mentioned in prior reflections we are seeing a rapid increase in the number of funds being put together that are looking for opportunities in the space. Other than the flashy ICO's the real work is being done by teams that are leveraging the blockchain to harness it's potential.
Coinbase this week joined the ring with it's own venture arm
. While it will be interesting to hear how this may be a conflict with their core business, it is still becoming the dominant player in the space. In the next 3 - 5 years there are going to be a few companies that dominate the space and Coinbase is definitely going to be one to look out for.
Bitcoin Technical Analysis:
The bearish death cross has taken place. Price has struggled to find a footing on volume which is staying below it's 20d moving average. The probability of testing the lows of February is becoming a much greater possibility with every passing week.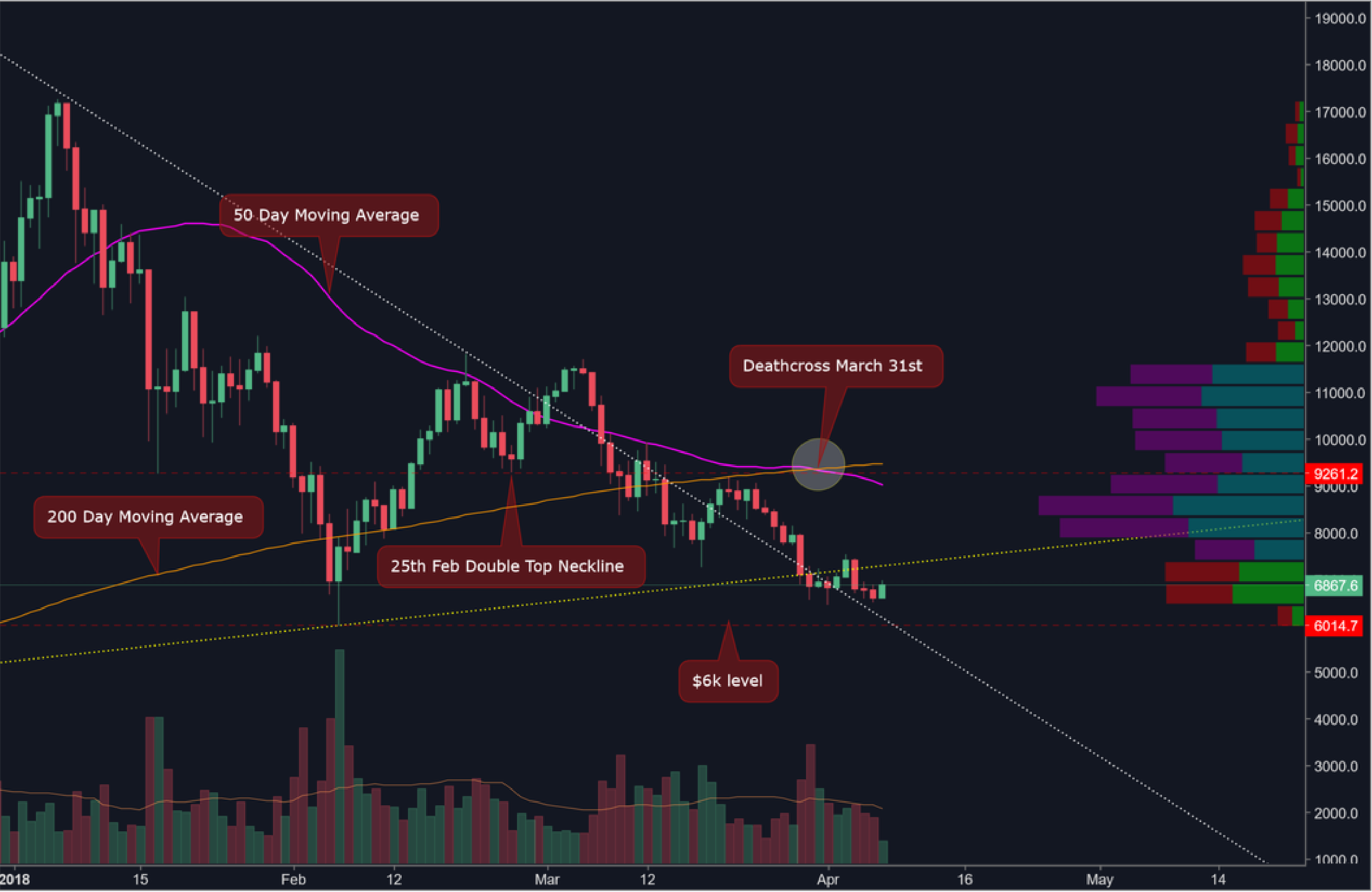 Bitcoin continues its downward trajectory and we are not finding too many signs of a floor just yet. This week we broke a key trend line that had been supported since last year. At the moment there is considerable amount of weakness from a technical perspective. Shorter time frame have provided active traders several short setups that paid off very well this week.
We are still looking for structure and confirmed divergence on our technical indicators.
---
Another week has come to an end. One thing is for sure. We are all at a very interesting time in the world. There are several large shifts which are brewing on the horizon. With fiat currencies coming under greater duress. Global equity indices beginning to see weakness and commodities such as Gold starting to see funds flow towards it. Keeping track of everything is becoming a challenge.
In the coming weeks we are going to be announcing a new product from ProButterfly which is going to help you keep on top of everything to give your portfolio that extra edge. Remember to subscribe if you want to be kept in the loop!